The popular collaboration software Zimbra can now be seamlessly integrated with Seafile's powerful file sharing and file collaboration functions. We proudly present: the Seafile Plugin for Zimbra, version 1.0! Accessing files stored in Seafile conveniently from Zimbra's webinterface, sending sharing links via Zimbra Mail and archiving emails directly in Seafile – the plugin makes it possible. Seafile in combination with Zimbra is a safer, more economical, self-hosted alternative to Google's G Suite and Microsoft's Office 365. In short: a dream team.
Seafile's seamless integration in Zimbra
In recent years, Zimbra has made a name for itself as a low-cost, open-source collaboration solution with the key features including email, calendar, contacts, and tasks. Messaging and video-conferencing can be easily added. The new Seafile zimlet, as Zimbra plugins are called, merges Zimbra's and Seafile's capabilities into a powerful and user-friendly collaboration powerhouse.
The Seafile zimlet extends Seafile's strengths in file collaboration by complementing functions for efficient team work. Seafile users can enjoy so far absent calendaring and contact management features. For Zimbra users, the zimlet puts all their files at just one click away. Switching webinterfaces is a thing of the past, sharing links can be generated right in Zimbra's web client and emails can be archived straight in Seafile. Seafile and Zimbra users benefit!
Convenient Seafile access via Zimbra's webinterface
A new tab 'Seafile' appears in Zimbra's web client after installation. This is how users can access their unencrypted Seafile libraries and manage their files in Zimbra. All file operations including create, move, rename, and delete are available in the new tab. This goes for folders and files as well as for libraries. To create a sharing link, the Seafile tab is the right place for that too.
Managing files in Zimbra works just like in any file manager. A navigation pane displays all unencrypted libraries and their subfolders in a hierarchical structure. The detailed file list shows the content of the selected folder. File operations are easily accessible via the right-click context-menu. File management is quite as simple as it can be.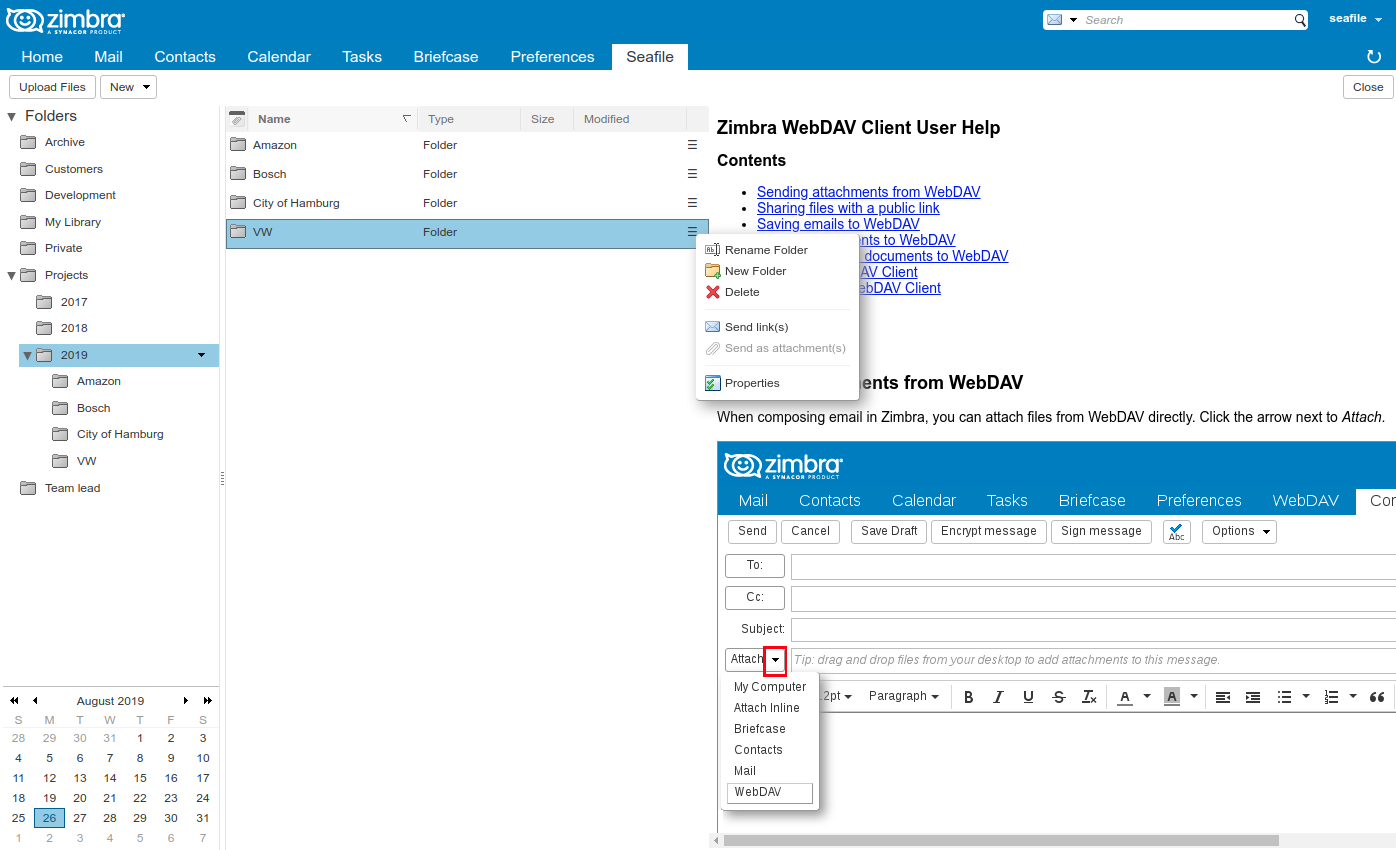 The file preview takes up the most real estate in the new tab. The zimlet supports previews for many graphic files (i.e., JPG, PNG) as well as PDF- and diverse text file format (i.e., TXT, MD). Office files (i.e., DOCX, XLSX, …) can also be previewed with an integrated online editor such as ONLYOFFICE or Collabora. Zimbra has the editor render the document and a double-click opens the document, spreadsheet or presentation for editing.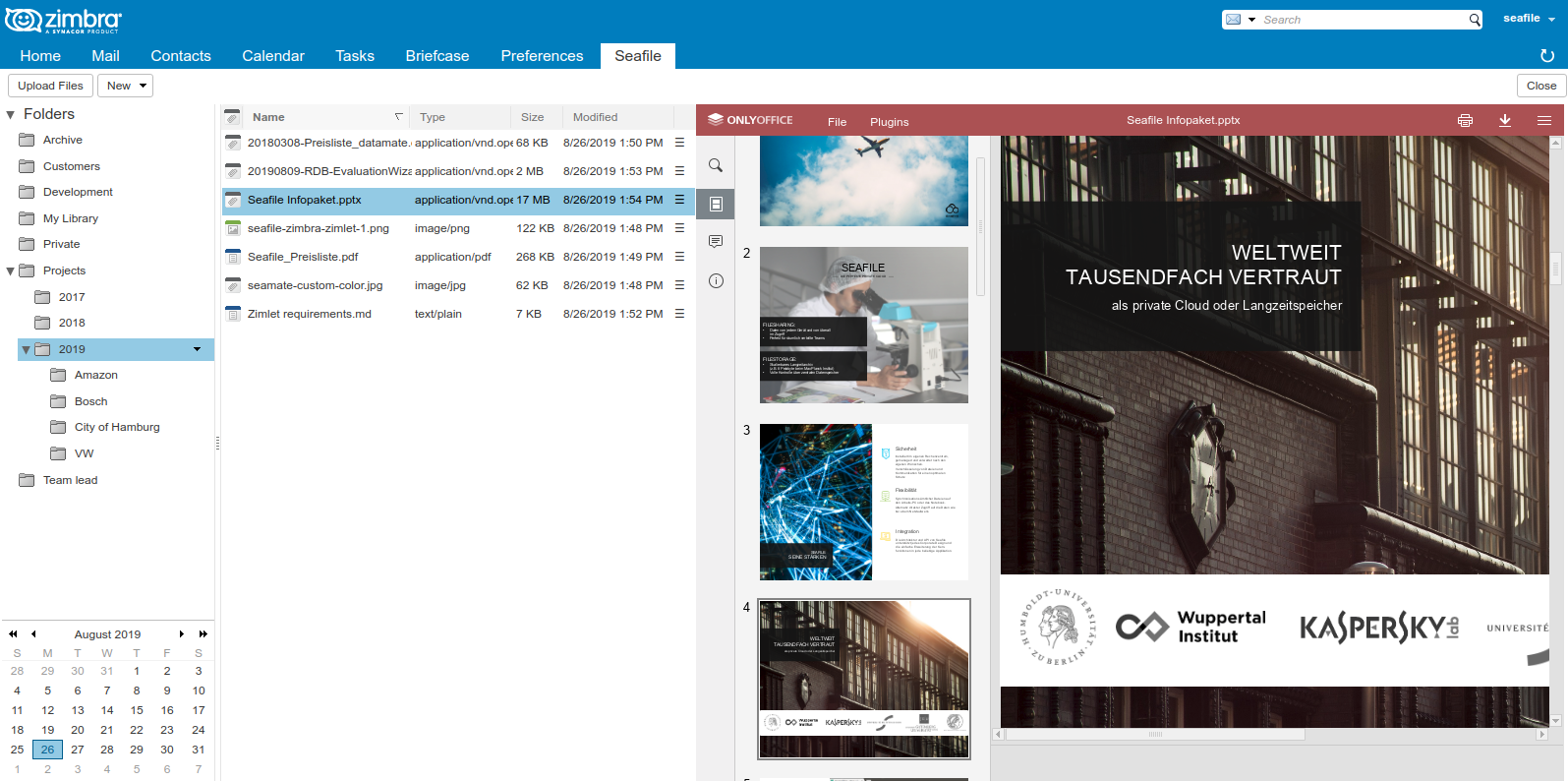 Integrating Zimbra email in Seafile
Besides file access, the zimlet also makes generating and sending sharing links very easy. One click generates an email and sends a user-friendly, short sharing link instead of a clumsy file attachment. For protection of sensitive information, password protection and automatic link expiration are two options to choose from when generating the link.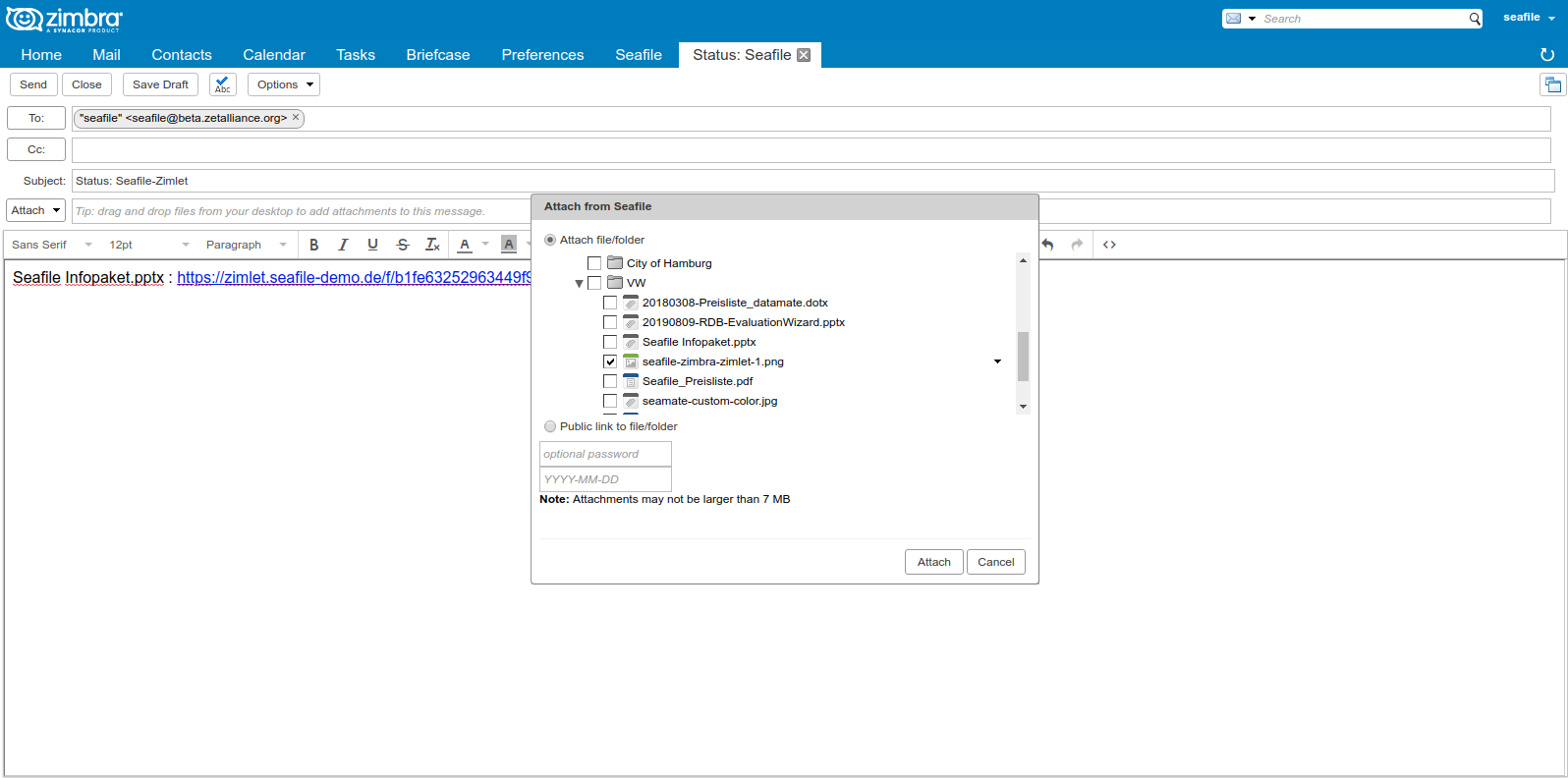 And that's not all! The zimlet allows users to export emails directly in Seafile. As per the user's choice, Seafile saves the mail either as EML or PDF file. If only the email attachment is to be saved, that can be done as well.
One-click-switching between Seafile and Zimbra
The zimlet makes working and managing files in Zimbra really easy. If, occassionally, a user wants to switch over to Seahub – for instance, to use the Markdown editor– all it needs is one click on the 'Go
 to Seafile' button. It teleports the user from Zimbra's web client to the same position in the folder structure in Seahub. Work continues in Seahub where it was left off in Zimbra. And no authentication is required either – the zimlet takes care of that.
Technical integration
The zimlet builds on the Zimbra WebDAV Client by Zeta Alliance. It was amended on behalf of our partner datamate to reflect Seafile's ideosyncracies. Specifically, the zimlet uses WebDAV commands for all operations on files and folders and API calls for library-level operations. It also uses Seafile's API to generate links and to implement the one-click switch.
Just like the server code of Zimbra's open-source edition and Seafile's sync client, the Seafile Zimlet is released under the open-source license GPL2. This license imposes no restrictions regarding the viewing, the modification, and the further development of the source code.
Requirements and installation
The zimlet requires installation on your Zimbra server. The Zimbra WebDAV client's website as well as the zimlet's GitHub page contain detailed install instructions. The installation is initiated by executing a SH-script. A wizard walks the administrator through the installation.
After installation, the user must equip the zimlet with access credentials for Seafile. This can be done in the zimlet's settings. Once the zimlet has successfully authenticated against Seafile's user database, the user can access all his/her data in the Seafile tab.
The zimlet is compatible with Seafile Professional and Community Edition. It has been tested intensively with Seafile Professional 7.0.7 and Seafile Community 7.0.4.
Zimbra – worldclass email and groupware
Zimbra is the collaboration software suite of Synacor from Buffalo, New York. More than 100 million users in more than 140 countries use Zimbra.
Zimbra is – like Seafile – available in a free, open-source as well as a commercial business edition with closed-source components. The Zimbra Collaboration Open Source Edition (OSE), with its email server and calendaring features, is an attractive solution for medium-sized enterprises and startups. The Zimbra Collaboration Network Edition (NE) as an entreprise-class groupware, boasting MAPI and ActiveSync support, a Zimbra-Outlook connector, and professional consulting and advisory services, is geared towards large companies, public sector institutions and research bodies. Both editions share the AJAX-based web interface that facilitates using Zimbra's many features. Besides the web client, Zimbra Desktop is a full-featured free desktop email client available for Windows, Mac and Linux.
Zimbra runs on Red Hat, Suse Enterprise Linux as well as Debian, Fedora, Mandriva and Ubuntu and supports all popular virtualisation environments. A docker image is also available.
Thanks to Synacor's commitment to the open-source idea and Zimbra's open interfaces, an active ecosystem has evolved around the collaboration suite over the years. Dozens of zimlets facilitate the expansion of Zimbra's native capabilities with additional user and administrator features. Most zimlets can be downloaded from Zimbra's community website.
Outlook
We invite all Seafile and Zimbra users to thoroughly test the new zimlet and to comment in the Seafile forum. Based on emerging demand and feedback, we will push forward with the zimlet's development. Thanks to the collaboration with the Zeta Alliance and, in particular, Barry de Graaff as lead developer of Zimbra's WebDAV client, the Seafile zimlet will benefit from all developments in the shared code basis.
Changelog
September 2, 2019 version
Integration of Seafile as file backend in Zimbra's webinterface via WebDAV and API

Display of file meta data (file name, file type, file size, last modification date)

Support of common file operations (create, download, rename, move, delete) on file, folder and library level

Function

'

Download as PDF

'

for many file formats

File preview for many graphic and text files as well as PDF documents

Online editing of TXT and MD files

File preview and editing for office files with integrated online editors

Generation of sharing links for files, folders and libraries incl. password protection and automatic expiration

One-click-switch to Seahub

Saving emails to Seafile (either in PDF or EML format)

Saving email attachments to Seafile

Support of German special characters